Propane for Floor Buffers & Burnishers
Zephyr supplies 20-pound (4.7-gallon) propane tanks, the standard for industrial floor buffers.
Get your propane quote here!
Industrial propane for floor buffers = high power, high polish
When you use Zephyr propane for floor buffers, you unleash the full power of your machine. Unlike electric and battery power, propane delivers max power and max RPM at all times, which means every square inch of your floor will be left with that desired "wet look."
Simply put, propane-powered floor buffers are light years above and beyond all other buffers when it comes to power, performance, and finish.
Zephyr propane for floor buffers provides up to 8 hours of continuous, high power use per tank. Where a corded buffer literally ties you to outlet locations and batteries require pre-work planning and charging, a Zephyr propane tank can simply be swapped out and you're back to work. No strings (or cords) attached.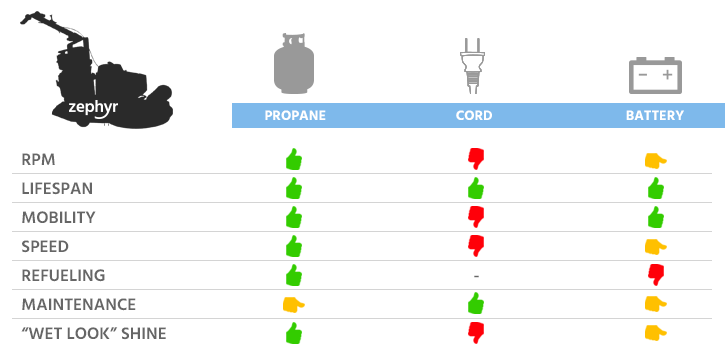 Why Zephyr wholesale propane?
Sure, you can get wholesale propane for floor buffers from a number of places, and Zephyr's wholesale propane is priced consistently low with significant savings (plus possible tax benefits) on high-volume orders. But it's not just about pricing…
Our centralized ordering and billing system is simple and fuss-free and provides excellent visibility on usage data.
We hang our hat on having built the most expansive U.S. distribution network in the industry. But that statement isn't really about us. It means that you can be sure that we will be able to consistently deliver to you anywhere, whether it's New York City— population: 8,491,079, or Buford, Wyoming— population: 1.
If you have 500- or 1,000-gallon tanks on-site, we can also fill them for you! We can even get you new, secure, key-lock cages to house your floor buffer propane tanks on your commercial property. Ask us!
We say it all the time: At Zephyr, we're all about making life better. Join us and experience it for yourself.
Zephyr also supplies propane tanks for forklifts.
Get a free propane quote!
If you need propane for floor buffers, fill out the following as best you can so that we can give you our most accurate quote. We'll email you back quickly—usually the same day. Or call us during business hours: 1-877-275-9374. Thanks for choosing Zephyr industrial propane for floor buffers!
PLEASE NOTE: If you need 2 or less propane tanks, please click here to purchase them directly instead of using this form.
Full terms & conditions