Zephyr Solutions is trusted By:


About Zephyr Propane
Zephyr Solutions is a supplier of wholesale propane for major retail chains and high-volume business across North America.
Zephyr supplies 20-pound floor buffer propane tanks and 33-pound forklift propane tanks/cylinder, the standard for all major brands of Class 4, Class 5, and Class 6 forklifts. Additionally, we can fill your 500- or 1,000-gallon propane tanks for you, right on-site.
We can even get you new, secure, key-lock cages to house your forklift and floor buffer propane tanks on your commercial property. So If you want to buy the forklift propane tank or refill, then Zephyr will help you!
Learn more about Zephyr propane for forklifts or propane for floor buffers.
Why Zephyr Wholesale Propane
Zephyr's wholesale propane is priced consistently low with significant savings (plus possible tax benefits) on high-volume orders. But it's not just about pricing. Our centralized ordering and billing system is simple and fuss-free and provides excellent visibility on usage data.
When it comes to residential and industrial propane service for your business, nobody beats Zephyr. Furthermore, we have spent the better part of a decade building the most expansive U.S. distribution network in the helium industry. It is because we have already long established this distribution chain that we are able to consistently deliver propane to any location in the United States, as well as internationally.
If you are interested in propane tanks for your stores, floor buffers or burnishers, or forklifts, you can get an always-free online quote any time of day. We'll respond with pricing quickly—usually within the hour during business hours. Thank you for your interest in Zephyr wholesale propane!
Propane Resources
Trust the wholesale propane experts. Below are shortcuts to Zephyr's propane resources and information, for your convenience. If you have any further questions about Zephyr propane gas, please consult our FAQ page or feel free to call us!
FAQ:

Where can I buy wholesale Propane from?

Here! Zephyr is a trusted propane supplier to retail chains across the United States. If you're looking to buy wholesale propane, click here and we'll give you a free quote!
FAQ:

What industries do you sell Propane to?

Zephyr sells wholesale propane to any industry, store, or chain that requires propane for powering their forklifts and/or floor buffers and burnishers. We supply 20-pound propane tanks for floor buffers and 33-pound tanks for forklifts.
FAQ:

Do you fill propane dewars on-site?

Yes. Zephyr can fill your 500- or 1000-gallon propane tanks on-site. However, Zephyr's 20- and 33-pound propane tanks for your forklifts and/or floor buffers will be swapped out on a regular schedule rather than refilled on-site. Our distributor will pick up your empty tanks when he or she drops off your filled replacement tanks and take them back for secure, safe refilling.
Floor buffers propane power chart
Click image for the full-size chart.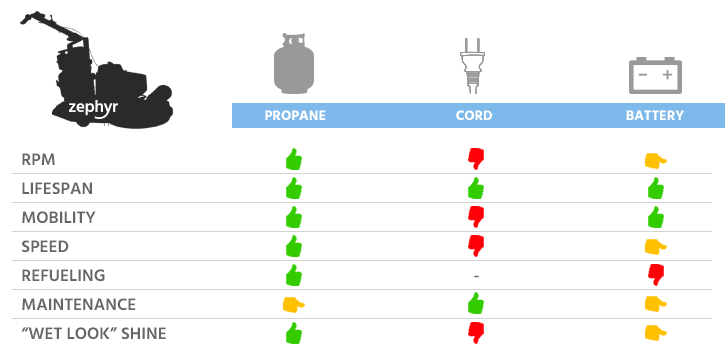 Forklift propane power chart
Click image for the full-size chart.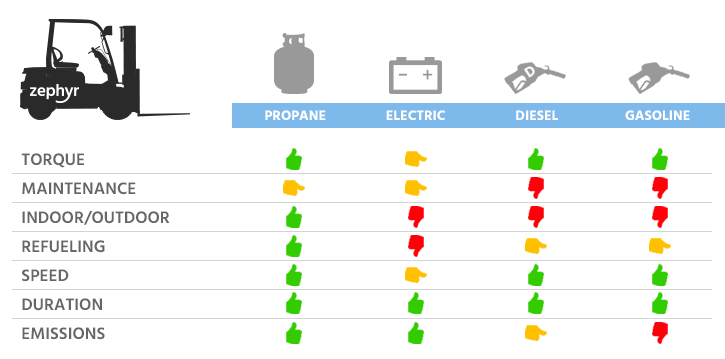 FAQ:

What if I need cages to house my propane tanks?

We can absolutely get you new, secure, key-lock cages that meet and exceed all requirements of the law! All you have to do is click "Yes" to the question "Do you need new propane cages?" on our form when you submit a propane quote request. Easy!