Propane as fuel for industrial machines is a widely accepted and preferred method of power, but what about the transportation industry?
Earlier this month, The 20th Annual Work Truck Show of 2019 took place in Indianapolis. If you aren't familiar, the National Truck Equipment Association show is the nation's "big event" for the work/fleet truck and transportation industry.
You can browse this year's show floor on the event's Flickr page and if you do, you might notice something interesting:
Check out the lower right of the photo and you'll see a "Near-Zero Emissions" box truck. Forget gasoline and diesel, this truck uses only propane as fuel.
Autogas – Propane as Fuel in Transportation Fleets
Often called Autogas, propane as fuel in the trucking industry has been a theory, topic, idea, concept, new wave, old news, new news, fuel of the future, etc., for half a century now. In practice, it hasn't quite taken hold, particularly in the U.S. — at least not to the level that gasoline and diesel have.
Unlike industrial machines and equipment, the only argument against propane as fuel is that it is a little lacking in power when compared to diesel when used for heavy-duty and semi trucks. That said, it does have plenty of power to perform all of the same transportation and travel tasks.
If a trucking company can deal with a little less power and pick-up on speed, the trade-off of using propane as fuel instead of diesel is it's "green." As we've mentioned, propane emits nearly zero harmful by-products.
In addition to that, propane on average runs over 25% CHEAPER than diesel fuel and depending on fluctuating market rates, has even run as much as 50% cheaper than diesel at times.
To date, the United States still prefers the power and speed of oil, as evident by the fact we have only around 150,000 propane-fueled vehicles on the road out of the tens of millions driving daily around the world.
Why propane as fuel for vehicles hasn't taken hold isn't entirely clear, especially when you consider the tremendous cost savings in addition to the clean emissions — a hot topic in the era of global warming conversations.
One area propane has taken footing is with school bus fleets. The U.S. Department of Energy released an interesting case study five years ago, comparing the differences of propane-powered and diesel-powered school buses.
Here is the link to that case study and if interested, you should give it a read. The results are fascinating and hard to argue against, concluding that school districts saved 50% of their costs per mile compared to diesel-powered buses. Emissions were nearly completely cut and oh yeah – the kids all got to school every day just like always.
Propane as Fuel for Industrial Machines
One proven industry where propane as fuel has become the standard is in warehouses and other industrial and commercial buildings.
Zephyr supplies companies that use propane as fuel for their fleets of industrial forklifts and floor buffers. When used for these machine fleets, propane excels over gasoline, battery, and electric options for it's power and duration, but also for its ease of use, replacement, and it's clean burning, near-zero emissions that permit outdoor and indoor use.
At Zephyr, we provide propane as fuel for your vehicles, plus supplies to help enhance the efficiency and promote the safety of your industrial operations. To learn how we can serve you, call us today at 877.275.9374 or request a free quote on our website. Get a free propane quote from us here.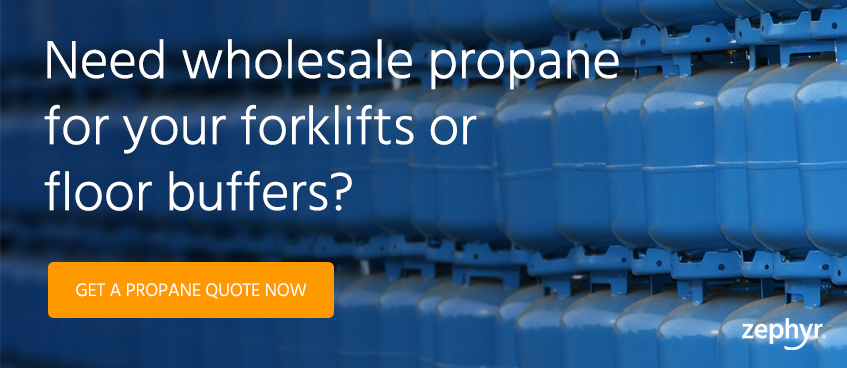 Sources:
https://www.flickr.com/photos/ntea
http://www.worktruckshow.com
https://afdc.energy.gov
http://www.autogasforamerica.org