Using propane for forklifts and floor burnishers is the most cost effective fuel over the course of your machine's life. But it goes beyond that.
Using propane as fuel
Propane as a fuel source for forklifts and floor burnishers translates to maximum power from the start of the full tank to the very last molecule of fuel— unlike electric batteries, which may begin powerful but lose strength rapidly as they drain down.
Compared to electric, propane also allows you to operate freely. No cords, no searching for electrical outlets, and no need for pre-work planning, charging, or stocking up on bulky batteries.
Best of all, unlike traditional gasoline as fuel, propane is clean burning so you don't have to worry about harmful emissions. You can operate your machines both indoors and out.
At Zephyr, we provide propane for forklifts and for floor burnishers. Get a free propane quote from us here.
Propane for Floor Burnishers
When you utilize the propane canisters we provide for floor burnishers, you give your machine the ability to operate at full power and excellent efficiency. As you can see in the graphic below, using propane for floor burnishers gives you the power and RPMs needed to get that "wet shine" look across every square inch of the floor's surface.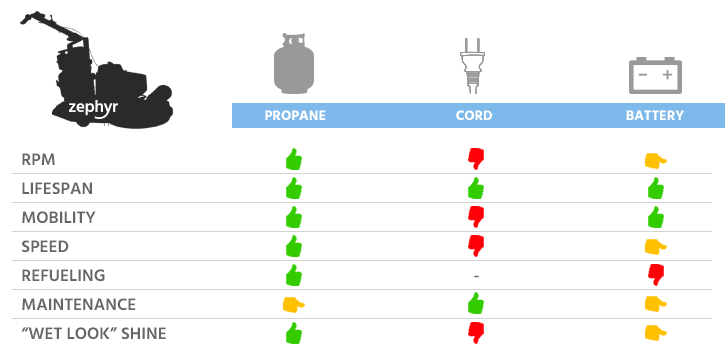 Finishing power aside, having to work around and handle a cord or stop and start again to find an outlet or extension cord is not only a hassle, it takes extra time. And having to constantly charge and change an underpowered electric battery can lead to lots of downtime and pre-work planning. With propane, simply yank out the empty tank, pop in the new one, and you're back to work in seconds.
When it comes to performance, power, and finishing results, propane floor burnishers excel in capability above other competitors. The propane Zephyr offers for floor buffers provides up to 8 hours of high power, continuous use per tank.
Using propane for Forklifts
By using propane to power your forklifts, you can take advantage of maximum power on a continuous basis. Delays that can accompany drained batteries are not present with propane as a fuel source. All you need to do is change out the empty cylinder and replace it with a new full cylinder to get right back to work.
Also, when fueled with propane, you can operate your forklifts both outdoors and indoors without concern over harmful emissions dispersing into your warehouse space. Propane is as much as 50% cleaner than gasoline and even electricity and it is because of this that some states have passed laws that forbid any other power source than propane.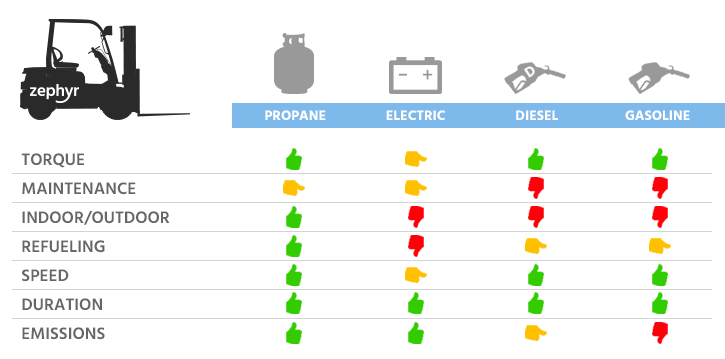 The propane canisters that we provide for forklifts allow for up to 8 hours of continuous, full-power use per canister.
At Zephyr, we provide propane supplies to help enhance the efficiency and promote the safety of your industrial operations.
To learn how we can serve you, call us today at 877.275.9374 or request a free quote on our website. Get a free propane quote from us here.